Carmelo Anthony dunked…his penis into a woman named "not his wife". Now, this is all alleged and unproven. However, Anthony hasn't denied it.
The stripper works at a "gentleman's club" in New York City. It's rumored she's six and a half months pregnant. That's about the end of the third quarter in basketball terms.
Is she asking for money and support? That's a dumb question. Of course she is. When she saw that pregnancy test turn positive, she only had one reaction.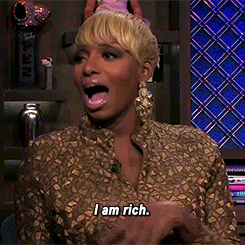 His wife, La La, is super pissed, left Anthony and there's "virtually zero change of a reconciliation." Hey, it's not over until the scoreboard shows double zeroes.
This shouldn't come as a surprise to those that really know Anthony.
One source said, "Melo's tagline was, 'She's married, I'm not.' That's how he would justify it. His attitude is that all professional athletes do it, and many of them do. La La has put up with a lot. She knew it was going on, but I guess this time she's had enough."
Haha, ok. Why even get married then? Seriously, if you know you'll cheat, don't marry, don't risk losing money in the divorce and don't screw up any kids you have. Just keep screwing groupies. Nothing wrong with that.
The two have been living apart for months. "They've broken up in the past, they split three years ago, gave it some time and then got back together. They're hoping the same works again."
Also, La La's career has taken off. She's in Power, finished filming Emergency Furlough with Whoopi Goldberg and finished a Mother's Day special for VH1.
Meanwhile, the New York Knicks want to cut ties with Carmelo. He's overpaid with a body that's slowing down.
Cue the sad trombone.
Update: (4/21/2017 2:57 pm): Turns out the woman isn't a stripper.