It sucks when your dog dies. You've lost your best buddy – the one that will always come running up to you if you've had a good day or a bad day. They will snuggle up to you when you're reading on the sofa – well, that works better if you have a small dog, since you'd be squashed by a Great Dane. You feel sad when the pooch passes. I don't think you've felt as bad as Tom Hardy, though. His dog, Woody, passed away at the age of six.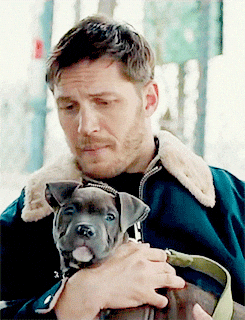 Hardy wrote a really heartfelt letter to his late friend. It's really hard to read, but that might be because of the terrible formatting and punctuation on the page. Also, the color scheme made my eyeballs want to get up and run out of my head. Consider yourself warned before clicking the link. If you highlight everything, then it's more tolerable.
He was an Angel. And he was my best friend. We went through so much together.

[…]

He has been on many sets. Met many crews. Photo shoots premieres made many many friends he was #73 most influential animal in TIME magazine. He beat JAWS. Something we all thought was brilliant. He's been in peaky blinders. Legend everyone who met him loved him. He didn't have a bad bone in his body. All he knew was love.

[…]

To the bestest friend ever. To me and to a family who loved him beyond words and whom he loved without doubt more than I have ever known. Woody was the bestest of journey companions we ever could dream of having. Our souls intertwined forever.
I mean, it's sad that Woody died – Labradors are the best – but this went way over the top. Well, people have posted flowery tributes to their pets in the past, but they aren't as famous as Hardy is. Take it down a notch, bro.
It's a good thing that Woody died of natural causes, because if someone had hurt him, I think Hardy would have done a real-life John Wick movie. Hey, don't make the guy who plays Bane mad…