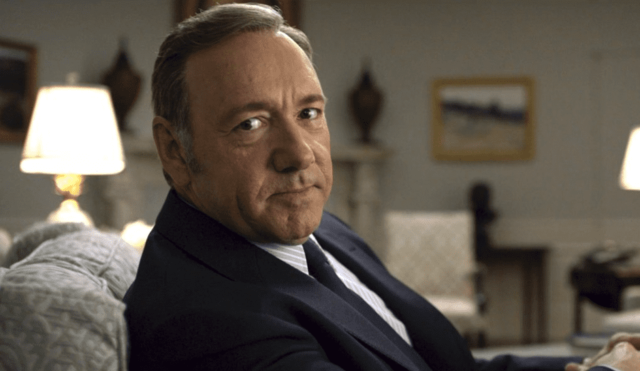 House of Cards / Screenshot
When I wrote about Anthony Rapp's allegations that Kevin Spacey tried to sleep with him when he was 14, I didn't make a lot of commentary about it. I figured this story could have broken two ways, and I didn't want to be caught out making unfounded conclusions before it did. Well, now another man has come forward to allege to Vulture that he had a physical relationship with Spacey when he was 14 and Spacey was 24, and that Spacey tried to rape him when he was 15.
So Kevin Spacey seems less defensible as more about him comes out. It seems he spent most of his 20's trying to bang teenagers. There may be room to equivocate, as some have, about the morality at play here and age of consent laws (the age of consent in New York is 17, though, not 14), but I think we can all agree rape is bad, right? There's no one going "Rape is actually good" is there? So let's see what exactly transpired between Spacey and his anonymous former associate.
He did not say. He just did. I guess he must have come up behind me and yanked down my baggy jeans, and he goes to f**k me and I'm like, "No, I don't want to." And he pushes hard, and grabs me, and starts shoving up against my asshole, and it hurts like a motherfucker. I again tell him no, and he tries again. I am strong enough, thank God, both somewhere in my brain and in my body, to get him off of me. I'm sturdy, thankfully. I throw him off of me and I run crying down the stairs and out into the street and then suck it all up and go have dinner.
That's… wherever you believe the line to be, that is well across it. I don't think there's any room for equivocation after that. Kevin Spacey tried to rape someone, let's not split hairs about it anymore.
A representative of Spacey made a short statement to Variety:
Kevin Spacey is taking the time necessary to seek evaluation and treatment. No other information is available at this time.
Netflix has suspended production on House Of Cards' sixth and final season, and gave this statement, also to Variety:
We view Kevin seeking treatment as a positive step. We continue to take this hiatus time to evaluate our path forward as it relates to the production and have nothing further to share at this time.
Clearly the plan is to hope this blows over before releasing season six of House Of Cards. Maybe Kevin will bump into Harvey Weinstein and sexual harassment fantasy camp.