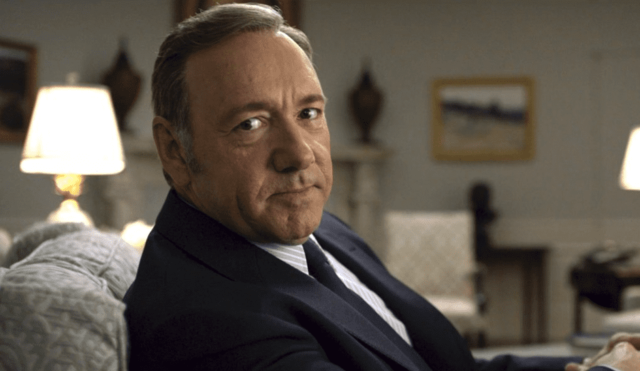 House of Cards / Screenshot
Things already suck for Kevin Spacey. He was accused of sexually assaulting underage boys on multiple movie sets, he came out as gay, and he was fired from all of his jobs.
Sometimes, when it rains it pours.
A new report from Daily Mail now claims that Spacey made racist remarks on the set of House of Cards. Earl Blue, the head of VIP Protective Service, says that Spacey would not acknowledge black members of his security team and would often make racist remarks.
According to Blue, Spacey was overheard saying, "I don't want n—–s watching my trailer." Blue says his team's contract was not renewed, despite receiving nothing but praise from those on set and from the company that hired them.
An executive told Blue that it was Spacey who made the ultimate call when he "did not want n—–s on his set anymore."
This is just one side of the story. Another source says that there were break-ins on set, including into Spacey's trailer, under the watch of VIP. Blue denied that report. A former VIP employee says that he never heard Spacey make racist remarks, but did say that Spacey was a "real asshole."
Would it shock me if Spacey was a little racist? No. Every old white guy is a little racist. But maybe this guy is just trying to pile on Spacey. The truth is likely somewhere in the middle. Spacey is a little racist and Blue and his VIP protection agency probably didn't do a 100 percent perfect job.
All I know is that Spacey is unlikely to work in Hollywood again. He can't be trusted around women. He can't be trusted around underage men and women. He can't be trusted around black people. He'll definitely be on the White House staff sometime this year.