Selena Gomez and Justin Bieber might be on a break, but that's not stopping her friends from voicing their displeasure over the couple.
A source tells ET, "There's a big crew of people [in Selena's circle] who really don't like Justin and they especially don't like him with Selena. A lot of her friends really don't like him. They think he's bad news for Selena and don't approve of the relationship."
I just imagine all of her friends have the same reaction Taylor Swift had when she caught them kissing backstage.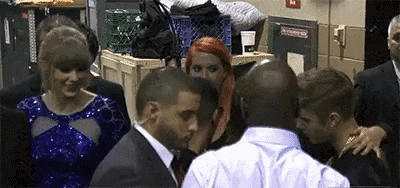 The source continues by saying that Selena's friends, all of whom are in the industry, believe that Bieber brings out the worst in the "Wolves" singer.
"[Justin] does care what her friends and family think and has tried to win them over, but some of them are just over it," the source adds. "They're there for Selena and support her no matter what, but don't feel like they need to welcome back Justin. If you notice, Selena keeps her friends and Justin separate — when she's with Justin, it's just Justin, and when she's with her old friends, it's just them. They don't really overlap anymore."
I feel like this is just a re-hash of the same story we've heard a million times, but maybe that's because this is a re-hash of the same story we've heard a million times.
According to the source, Gomez is trying to make it a point to love herself more this time around and not put Bieber above her friends. Has to be weird for Bieber to not be the center of attention at all times. No wonder they're on a break.
Gomez was recently spotted on a yacht looking just fine without 150 pounds of dead weight holding her down.