Karlie Kloss had enough of Taylor Swift. That's the reason these two former BFF's seem non-existent in each other's worlds.
Karlie Kloss recently got engaged to the other, not-evil Kushner, Joshua Kushner, a couple of days ago. Kloss broke the news to the world on Instagram (of course) with a selfie and captioned it:
I love you more than I have words to express. Josh, you're my best friend and my soulmate. I can't wait for forever together. Yes a million times over 💍
Hold my hair while I puke. Well, good for them, true love, soulmate, etc. etc.
These two should have some super-sized babies. Kloss is a tall 6'2″ while Kushner stands nose to nose with her at 6'2″ also. When these two have kids, the doctor's gonna pull their baby out like one of those magicians pulling handkerchiefs out of their hat.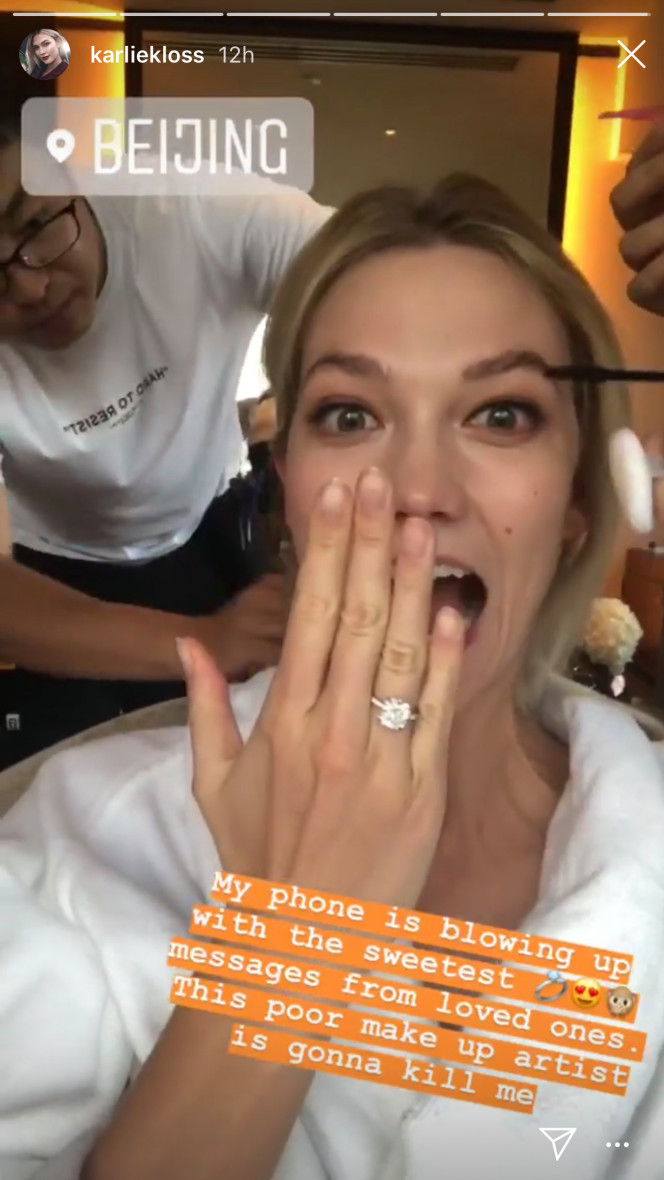 Kloss put her engagement ring on Instagram stories, writing "My phone is blowing up with the sweetest messages from loved ones. This poor make up artist is going to kill me."
There was one message she didn't receive.
Taylor Swift was noticeably absent from any sort of congratulations to Kloss.
What's up Taylor?? Not even a simple thumbs up emoji.
Yet, here's who Swift HAS congratulated in the past.
Cardi B
Swift sent flowers to Cardi B. a day after "Bodak Yellow" kicked Swift's "Look What You Made Me Do" from the top spot on the Billboard charts. Cardi B Instagrammed a shot of the gift and a thank you:
Sooo beautiful and lovely. Thank you @taylorswift for the flowers 💐❤️❤️…. and I freaking love your music 🎶.
Russell Westbrook
Russell Westbrook won the league's MVP award at the N.B.A. Awards in 2017. Swift made a congratulatory video for Westbrook, albeit tongue in cheek.
She jokes that she taught Westbrook how to ball and also said, "I remember the first time you beat me at basketball and I was very upset and you said, if you remember correctly, you said, 'You just have to shake it off."
Westbrook has been a fan of Swift's for years. Back in 2015, he recorded himself jamming out to "Bad Blood."
He also made it out to a Swift concert late that year.
USA gymnastics team
When the U.S. women's gymnastics team won gold in Rio in 2016, Swift tweeted out congratulations to the group of five: Simone Biles, Aly Raisman, Gabby Douglas, Laurie Hernandez and Madison Kocian.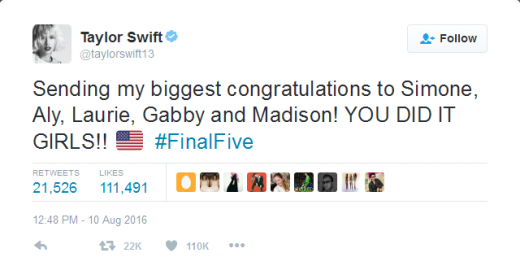 Taylor wrote:
Sending my biggest congratulations to Simone, Aly, Laurie, Gabby and Madison! YOU DID IT GIRLS!!
Swift probably hadn't even MET these girls before that tweet. Meanwhile, she's had Kloss over at her July 4th pool party.
Zendaya
When Zendaya graduated in 2015, Taylor tweeted "I'M NOT CRYING, YOU ARE. @Zendaya #ProudOfYou."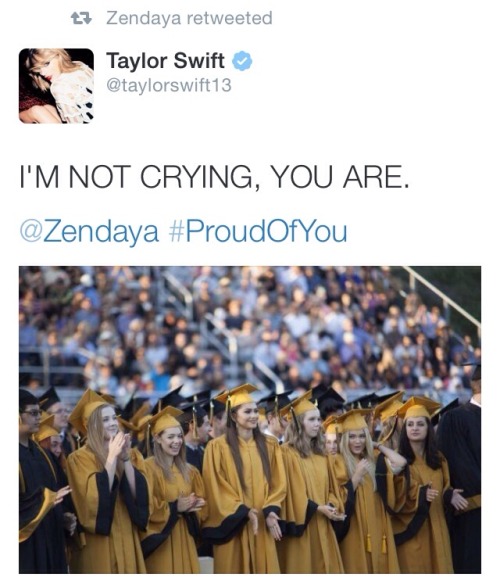 Zendaya appeared in Swift's "Bad Blood" video AND SO DID KARLIE! That's Taylor's only connection to Zendaya.
Her cats, Meredith and Olivia
First off, that's exactly what a cat lady names their cats: Meredith and Olivia. Not something like Hairball or Death Ray, but a boring ass name like…Meredith.
Swift congratulated her OWN CATS for ending up in Deadpool 2. Ryan Reynolds wore a T-shirt with her cats screenprinted on.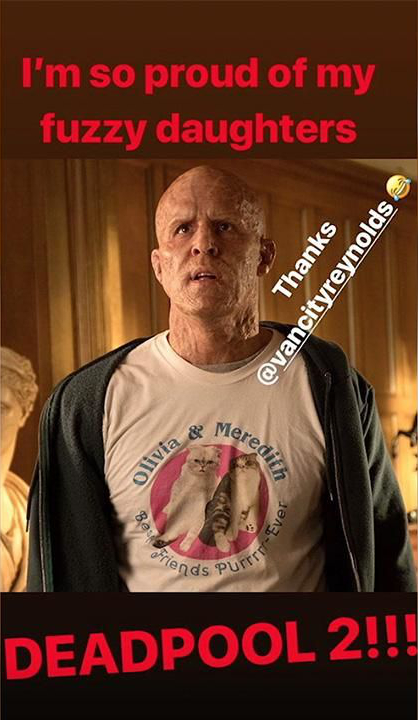 After seeing this, Swift put up an Instagram story where she's updating her cats on the news. Guess what? Cats don't know what the hell Deadpool is.
In one section, she says:
Meredith, I wanted to tell you something. Deadpool 2 — they put you and your sister on a shirt in the movie.
And in another, she asks Olivia:
How do you feel about the shirt? The world is dying to know.
All these people received congratulations from Swift for nothing even as eventful as an engagement. Swift is holding some serious grudges against Kloss for shutting her out. Kloss likely didn't want to deal with Swift's conniving ways anymore.
In any case, these two are so over each other. And to think these two were rumored to be lesbian lovers. Is nothing sacred anymore?