White people have taken back battle rap.
Eminem surprised fans last week with the release of Kamikaze. The album dissed anyone and everyone under the sun. One diss that got the most play was Eminem taking at aim Machine Gun Kelly.
Oh, you run the streets, huh?
Now you wanna come and f**k with me, huh?
This little cock-sucker, he must be feelin' himself
He wants to keep up his tough demeanor
So he does a feature, decides to team up with Nina
But next time you don't gotta use Tech N9ne
If you wanna come at me with a sub, Machine Gun
And I'm talkin' to you, but you already know who the f**k you are, Kelly
I don't use sublims and sure as f**k don't sneak-diss
But keep commenting on my daughter Hailie
I keep on telling motherfuckers
But just in case you forgot really and need Ja memories
Jarred like strawberry or pineapple, apricot jelly
I respond rarely, but this time Shady 'bout to sound off
Like a fuckin' cocked semi Glock, demi-god
Let me put a fucking silencer on this little non-threatening blond fairy cornball takin' shots at me
You're not ready, fool, break yourself like Rocksteady Crew
Obviously, I'm not gettin' through
We can get it poppin' like Redenbach, lettin' off like Remy Ma
Heavy artillery, Godzilla, harsh with a hard shell
With a motherfucking heart bigger than Bizarre's belly
Only time you'll ever say I lost
You'll be talkin' 'bout Fetty Wap, better call Diddy
Just to try to get me off, and you better hope I don't call Trick Trick
Bitch, this s**t don't fly in our city
Punk, you don't disrespect OGs, R.I.P. Prodigy
Machine Gun Kelly previously dissed Eminem earlier this year with some weak bars about Marshall not being a Rap God. He also tweeted "ok so I just saw a picture of Eminem's daughter…and I have to say, she is hot as f**k, in the most respectful way possible cuz Em is king." Back when Hailie was 16.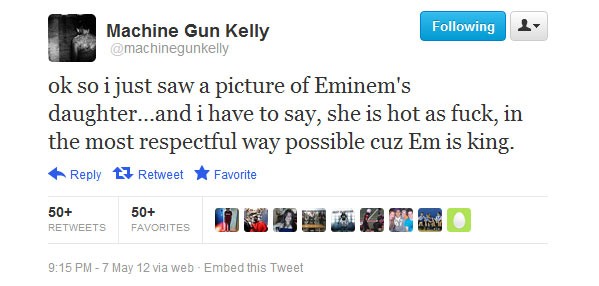 Proving to have a death wish, MGK released the full diss song "Rap Devil" as a response to Kamikaze.
You don't have to listen. All he does is call Eminem old.
Eminem has yet to respond. Nothing worse than knowing you're gonna die soon, but don't have an exact time.
The GOAT wasn't the only rapper MGK was beefing with this past weekend. MGK went on Funk Flex and spit some bars aimed at G-Eazy.
MGK implies that he fucked Halsey, who has an on-again off-again romance with G-Eazy.
Eazy did respond. This time with "Bad Boy."
Again, you don't have to listen. It's not very good. G-Eazy sounds like a white Drake.
MGK has yet to respond. Probably because he can only focus on one beef at once.
After waiting all summer for Drake to respond to Pusha T, rap needed a good beef heading into the fall. Unfortunately we're stuck with two white guys trying to be Eminem.
At least we have the Real Slim Shady to stand up to this nonsense.