First, Ariana Grande and Pete Davdison split. Now, Cardi B and Offset. These two broke up yesterday. It was only a few months ago, July to be specific, that Cardi B dropped her baby girl Kulture into this world.
Now, she and Offset are probably gonna fight over visitation rights. Or maybe not. Both of them are rumored to be getting along well despite the split, but more on that later.
The actual REASON for the split is more intriguing. Looks like Offset got caught sending texts to some girl called Summer Bunni, asking for a threeesome with her and another girl called Cuban Doll. I'm gonna laugh if their real names are Doris and Jane.
Anyway, here's Summer Bunni:
And here's Cuban Doll. You'll notice she has 1.4 million followers. You'll also notice that your life sucks because you have like 250.
Some disgruntled friend of Cuban Doll leaked this pic of Offset Facetiming Cuban Doll. She captioned it "Oh so @cubandsavage you wasn't gonna have a 3 sumn with @offsetyrn."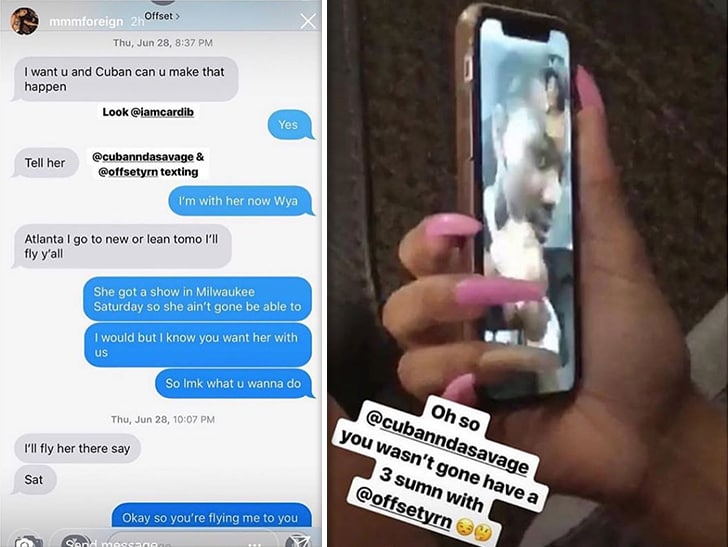 So Offset was gonna cheat on Cardi B. When Cardi B put out her breakup announcement on Instagram, he did say "Y'all won." I'll take that as proof.
Anyway, in the breakup video, Cardi B says she and Offset are "really good friends and really good business partners…we just grew out of love." While you won't see more babies from these two, you will see more collabs on songs. Which is cool. I'd rather listen to their music than stare at their baby.