Patton Oswalt and yet another troll got into it today. This time though, it had a happy ending. And not the one you usually get at your "spa."
It started with President Trump tweeting out "BUILD A WALL & CRIME WILL FALL!"
That's when Oswalt replied:
"You like pomes? I like pomes too! Here's a pome I wroted:
ROSES ARE RED
TOMMY SHAW WAS IN STYX
YOU'RE GOING TO RESIGN
EAT A BUCKET OF DICKS"
I approve of that poem.
Some dude name Michael Beatty then chimed in with "I just realized why I was so happy you died in Blade Trinity!"
Blade Trinity was the third and final Blade filmed and starred Wesley Snipes (Oswalt has plenty of amazing backstage stories about it. Read them here and here.)
That's when Oswalt replied with his usual humor:
Dude, I already know: 'cuz "…one more second of you on screen and my heart would belong to Patton Oswalt." I get told this at least twice a week by Trump supporters. It always makes me smile and I'm grateful and blessed.
The real story starts now though. After some digging, Oswalt discovered Beatty, a Vietnam vet, wasn't in such great condition.
Aw, man. This dude just attacked me on Twitter and I joked back but then I looked at his timeline and he's in a LOT of trouble health-wise. I'd be pissed off too. He's been dealt some shitty cards — let's deal him some good ones. Click and donate — just like I'm about to.
Beatty has a Gofundme for his hospital stay. He's been there for sepsis and diabetic ketoacidosis. According to Beatty, he's also been "coded twice."
Two weeks in hospital with Sepsis/DKA and coded twice. Long recovery along with massive medical costs. I have a meager retirement check. I'm a Vietnam veteran.

I was in the hospital from 12/12/2018 through 12/26/2018. I was in critical condition w/Sepsis. I coded twice in the ER but came right back. (stubborn according to my wife).
Not knowing what diabetic ketoacidosis is, I looked it up.
Diabetic ketoacidosis is a serious complication of diabetes that occurs when your body produces high levels of blood acids called ketones.
Sounds delicious.
Anyway, Oswalt was so moved, he donated $2,000 to Beatty's Gofundme. At the time, it was around $900 before Oswalt donated. His donation moved it a little over halfway to Beatty's goal of $5,000.
Beatty's reaction was genuine:
Patton. You have humbled me to the point where I can barely compose my words. You have caused me to take pause and reflect on how harmful words from my mouth could result in such an outpouring. Thank you for this and I will pass this on to my cousin who needs help. A cascade.
Then the internet kicked in.
Donations poured in of all amounts, $5, $10, $50. All from Oswalt's social media interaction with this guy. People donated because of their personal fights with sepsis, or unhappiness with the current healthcare system, or just even because "Patton said I should."




Right now, the Gofundme's at nearly $19,000.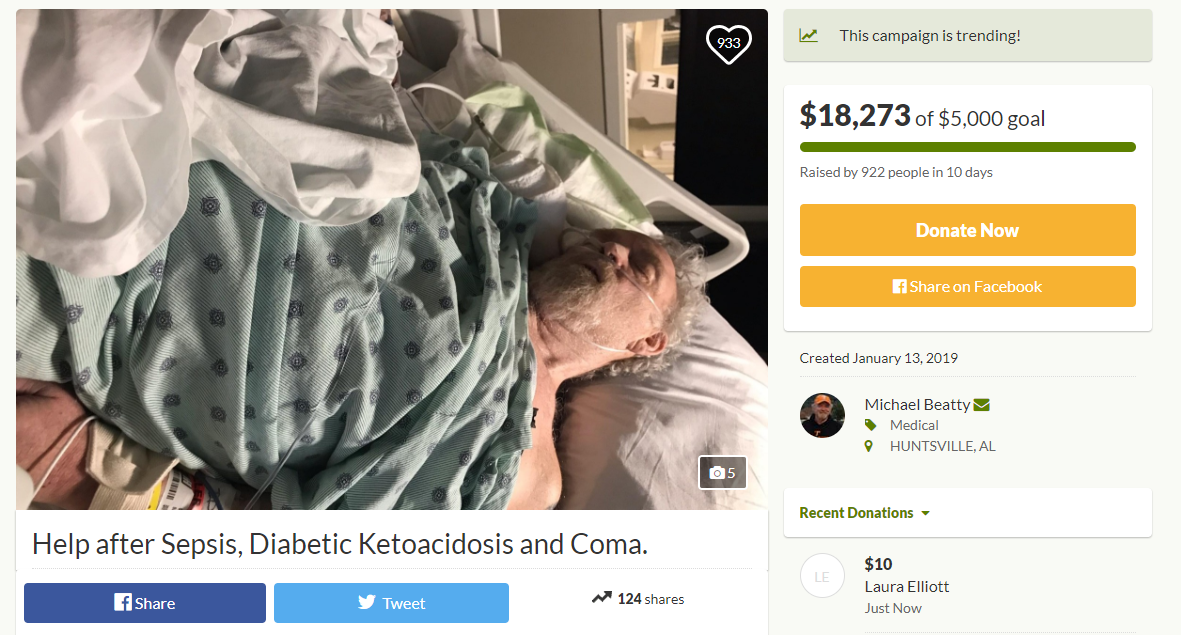 Now, Oswalt and Beatty have a huge lovefest going on.
Beatty crying:
I want to thank everyone who came to my aid with generous outpourings- and also to @pattonoswalt without whom I would not be the recipient of so much love and support. I'm not a man who ever cries but I had to wait to send this. And to quote Stuart on Big Bang "meat tonight"!
With Oswalt threatening to pull his donation because of his crying:
See, THIS is why compassion and forgiveness are the best — wait, you CRIED?!? You fuckin' pussy! Donation CANCELLED.
It's a good social media story. It's got celebrity, feel good emotion, a twist with Beatty's reaction, compassion, a great human interest story.
What's gonna be a bummer is if Beatty blows his donations on BMWs and island vacations.
That's what happened to that threesome in Philadelphia. Some homeless guy gave his late $20 to a couple whose car broke down. They got so overcome with emotion that they started a Gofundme for Johnny Bobbitt, the homeless guy.
Too bad it was all a scam. All three made up the story and plotted to steal donations which turned out to be $400,000.
The moral of the story is that diabetic comas aren't all bad.