Conor McGregor, who unretired on Tuesday, and Khabib Nurmagomedov, the guy who submitted him in his last fight, have been going back and forth on Twitter. It started when Khabib responded to Conor's retirement by comparing him to a jealous wife who leaves all the time but comes back. It wasn't an untrue statement, but Conor, like a angry 5-year-old, had to respond and just went for the jugular.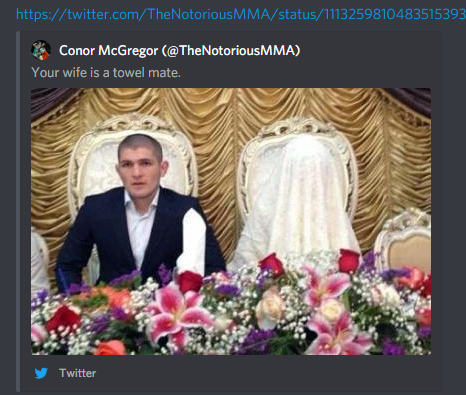 Ok, I sort of chortled at that. I mean, his wife looks like she was doing her best impression of a ghost. Of course, Kahbib is pretty sensitive about his religion and Dagestanis don't really joke around. Naturally, things escalated from there.
Yikes. That wasn't even trying to be clever. The woman in the photo isn't the one accusing Conor of rape. That woman was the one who claims Conor cheated on his girlfriend with her and had his kid. Without going into too much detail, the timeline sort of matches up and she's looking to do a DNA test.
If you remember, the last time these two went at it, Conor threw a dolly at a bus Khabib was riding in. Then after their fight, an all out brawl erupted in the octagon which lead to them both getting suspensions. This is probably why UFC president Dana White decided that he had to step in before things got serious.
If I know Dana, addressing the situation internally means rubbing his hands together and giggling uncontrollably thinking about how much money the rematch is going to make.
There was one great thing that came out of this though and it's Conor Cosby.