The lineup for Electric Daisy Carnival 2020 was released on Thursday during a live stream where listeners had to match the song played to the DJ performing.
But, if you could wait until Friday, Insomniac released the full lineup on their site. That's 236+ acts!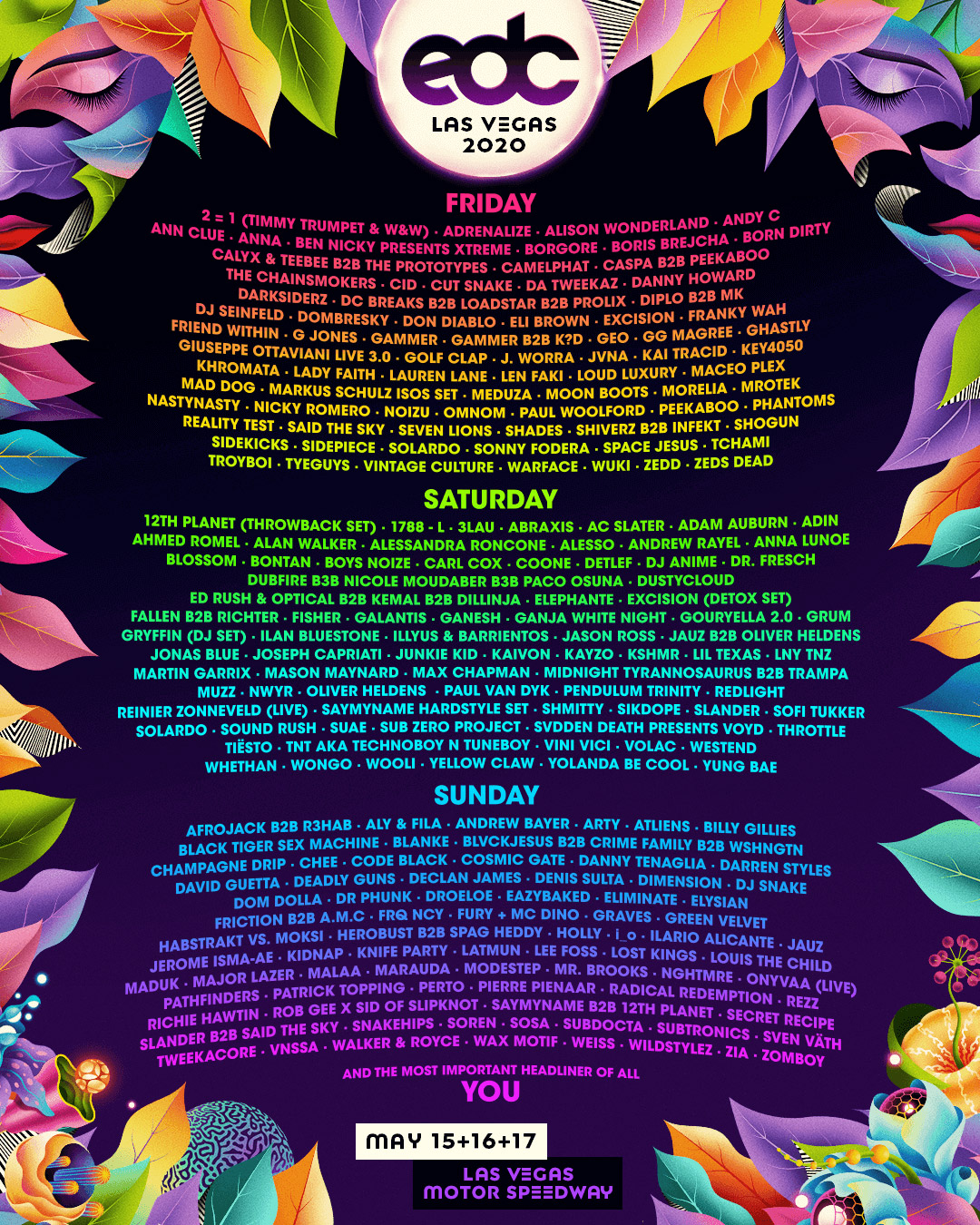 EDC takes place over the course of 3 nights, Friday to Sunday, at the Las Vegas Motor Speedway. This year they've opened up the entire Speedway so there'll be slightly more space to dance around. Slightly. If you're a fan of the music, you could probably take a quick glance at the list of performers and decide which day is the best for you. But, what if you wanted to know, through cold, hard data, which day is actually the best? Why, you ask? Maybe you only want to go for a day or two and you want to know which days will get you your money's worth. Maybe you want to see how Insomniac stacked the lineup. Maybe you want to try and predict the day with the least amount of people. Maybe you want to know which day will be the most 🔥. Or maybe you have nothing better to do like me.
So how do we go about figuring out if Friday, Saturday or Sunday will have the most drawing power? I decided on the most subjective and error-prone method possible. By using arbitrary rankings from two DJ ranking websites. TheDJList based in the US and DJRankings based in Japan. Why these two? Look, I'm not some scientist trying to cure cancer and these two had a decent way to search artists. Plus, the idea was to keep it simple in that I could use both these sites as a proxy for DJ popularity. This isn't something you'd want to use for hard hitting analysis, but it's a fun way to look at it.
I started by grabbing a list of the artists and separating them into which day they were performing. Then I went through each artist to get their ranking from both of those sites. For any artist that didn't exist in their database, I would enter their rank as the lowest rank + 1 in each list I was checking. For example, in DJRankings, the lowest ranked DJ was ranked at 31,322. For any DJ that didn't exist in the DJRankings database, their rank would be entered as 31,323. The same was true for TheDJList. The lowest ranked artist was at 38,771. Any DJ I couldn't find in their DB, I ranked as 38,772. The assumption was they weren't popular enough to rank. For B2B sets, I simply averaged their rank. After taking the average of all the ranks, the data ended up like this. Lower is better in this case.
TheDJList average rank
Day
Rank
% difference
Friday
12065
–
Saturday
12673
5% difference from Friday
Sunday
16192
25% difference from Friday
DJRankings average rank
Day
Rank
% difference
Friday
16324
–
Saturday
20487
20% difference from Friday
Sunday
19003
14% difference from Friday
Both TheDJList and DJRankings are telling me Friday is definitely going to be the most popular day. About 5% and 20%, respectively, more popular than Saturday and 25% and 14%, respectively, more popular than Sunday. What's interesting, however, is that these 2 sites differ on the next most popular day. One says Saturday and another says Sunday.
In fact, according to TheDJList, Friday and Saturday are somewhat statistically even while Sunday isn't even close.
DJRankings is a little different. For that site, Friday is by far the most popular with Sunday being the next most popular. But, Saturday and Sunday aren't too far off in popularity.
What could be the reason? DJRankings seemed to favor more European artists while TheDJList was definitely more American focused. At least that was my feeling when looking at which genres were more popular during my searches. Which makes sense considering EDC is an American festival. Then again, it's unclear how often these sites are updated. TheDJList had far more artists in their database than DJRankings.
Maybe we can cancel out some bias by just averaging their rankings? When we do that we get
Average rank from TheDJList & DJRankings
Day
Rank
% difference
Friday
14195
–
Saturday
16580
14% difference from Friday
Sunday
17598
19% difference from Friday
This falls more in line with a ranking that's to be expected. Friday being the biggest day as the event tapers down towards Sunday. But wait, what about B2B sets? Aren't those kind of rare and special for EDC? I wanted to see if they made a difference, so for every B2B set, I boosted their rankings by 1.5x. Nope, not much difference there.
B2B Average of both sites
Day
Rank
% difference
Friday
14020
–
Saturday
16265
14% difference from Friday
Sunday
17359
19% difference from Friday
But wait, there's another pretty popular yet still arbitrary ranking list out there called the DJ Mag Top 100. Would that make any difference? What if I gave artists who were on that list a 2x multiplier? And if I gave a B2B performance that had 2 artists on that list a 4x multiplier?
DJ Mag Top 100 Multiplier
Day
Rank
% difference
Friday
14458
–
Saturday
18796
23% difference from Friday
Sunday
17599
18% difference from Friday
Things do switch up a bit. Friday is still the more popular day while Sunday inches back to the second most popular day. 7% isn't much of a difference between Saturday and Sunday, however. You can probably argue that in this case, Saturday and Sunday are pretty much the same. Even though the DJ Mag Top 100 isn't taken seriously anymore, this does show it still has some effect on popularity. Well, that and there are only 28 out of 236 artists performing on EDC that are on that list.
As I mentioned before, there were a lot of artists who didn't show up during my searches. So, is there some other data point that could act as a proxy for popularity? Hey, what about SoundCloud followers? Around 99% of artists performing at EDC have a SoundCloud and we can easily get an estimation of their followers. What does the average SoundCloud follower count per day look like when we do that?
In this analysis, if someone had no SoundCloud, they would be zeroed out. B2Bs would be averaged. The higher the numbers, the better.
SoundCloud average
Day
Followers
% difference
Friday
427678
–
Saturday
183978
57% difference from Friday, 41% difference from Sunday
Sunday
308791
28% difference from Friday
The numbers tell a slightly different story again. Once again, Friday is the most popular day. However, by average follower count, Saturday is the least popular day by far. There is a staggering 57% difference between Friday and Saturday. Almost twice as much as the website rankings. Even between Sunday and Saturday there is a 41% difference. That's pretty huge. Applying the B2B and DJ Mag multipliers to SoundCloud didn't make much of a difference either.
What accounts for this huge differential? Tentpole performers. Friday and Saturday are loaded with artists with huge follow counts which brings up the average. You can see how Insomniac purposely or innocuously front loaded Friday. Maybe because of scheduling conflicts? On Saturday, there are only two artists with over 1 million followers.
Artist
Followers
Friday
ZEDS DEAD
6,010,000
ZEDD
4,260,000
BORGORE
3,840,000
NICKY ROMERO
3,790,000
DIPLO B2B MK
3,717,000
SEVEN LIONS
3,650,000
THE CHAINSMOKERS
1,090,000
Saturday
MARTIN GARRIX
1,940,000
TIËSTO
1,860,000
Sunday
MAJOR LAZER
4,200,000
MODESTEP
3,730,000
KIDNAP
3,040,000
AFROJACK B2B R3HAB
2,730,000
DAVID GUETTA
2,340,000
DJ SNAKE
930,000
What does all this data mean? It's pretty safe to say that Friday will be the day to go if you're looking for the more popular acts. It doesn't matter whether you're from the US or coming internationally. Saturday and Sunday are a toss-up. If you're from the US, it seems more likely you'll prefer Saturday. If you like older, big name artists or if you're international, maybe you'd enjoy Sunday more.
Of course, the best way to tell is to look at the acts and figure out who you like. And also don't forget this doesn't take into account genre preferences, surprise acts, art car appearances, time conflicts, stages or a lot of other variables. Keep in mind as well I'm not a data analyst and a lot of what I calculated and interpreted could be very wrong. A lot of these data points are subjective as well such as the rankings from each of those sites, which, again, were vastly different at times.
It'd be interesting to run some analysis again when they release a set list of who's on which stage to answer the question of, if you were to stay at one stage, which would it be? And a post event analysis of which day attendees thought was better to validate or invalidate these findings.
In the end, however, you should just go to this damn festival and have a good time.