Emily Ratajkowski, 31, and Sebastian Bear-McClard, 41, plan on divorcing because…stop me if you've heard this before, he's cheating on Ratajkowski.
Page Six's source, who appears close to Ratajkowski, calls Bear-McClard "gross."
"Yeah, he cheated…He's a serial cheater. It's gross. He's a dog."
Although the two haven't filed for divorce yet, it's been in the works.
One anonymous submission to DeuxMoi said a "gorgeous model, actress and clothing designer showed up to at Michael Rubin's party last weekend ALONE."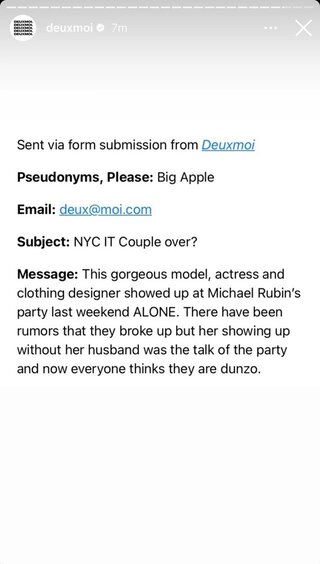 This was Fanatics CEO Rubin's July 4th party with Jay-Z, Beyoncé, Kendall Jenner, Draymond Green and others attending. People guessed Ratajkowski was the model/actress without her wedding ring.
Ratajkowski and Bear-McClard married in February 2018. They have a 1-year-old son Sylvester. It's unknown how custody will work out for Sylvester.
Don't feel bad for these two. They kinda are grifters.
Ratajkowski's worth $8 million. Bear-McClard's worth $12 million. Yet, these two back in 2017 stopped paying rent in New York to take advantage of the Loft Law.
The law's purpose was to provide affordable housing for artists. Struggling artists like Ratajkowski, living hand to mouth off her books, videos and modeling. And starving artists like Bear-McClard, who produced Adam Sander's Uncut Gems. Housing is always unaffordable when you're combined net worth is only $20 million.
They "utilized delay tactics while that application [to register as an affordable unit] was being processed, not paying rent" so claimed their previous landlord. Ultimately, they stopped paying on $160,000 of rent over two years. Then, their landlord claims he paid THEM to move out.
Ratajkowski's currently busy with her clothing line, such as sneaker collabs with Superga.
If she ever needs money, Ratajkowski can always get paid $25,000 by billionaires to be wall candy like she's done before or sell worthless NFTs.