It turns out it's not just weird little dudes like Joss Whedon who can publicly rail about what awesome feminists they are while also being shitty people behind closed doors. Asia Argento has been one of the leading voices of the #MeToo and #TimesUp movements, but the New York Times is reporting she paid $380,000 to Jimmy Bennett after he accused her of "sexual battery" in a California hotel room when he was 17.
The document lays out Mr. Bennett's account: Ms. Argento asked the family member to leave so she could be alone with the actor. She gave him alcohol to drink and showed him a series of notes she had written to him on hotel stationery. Then she kissed him, pushed him back on the bed, removed his pants and performed oral sex. She climbed on top of him and the two had intercourse, the document says. She then asked him to take a number of photos.
I don't think having sex with a 17-year-old is all that big a deal, it's legal in most of the country. Of course, it wasn't legal in California, the state that it actually happened in, where the age of consent is 18, making the encounter statutory rape. What's creepy about this is the relationship the two had. Here's what Argento posted on Instagram about the meeting a few hours before it happened.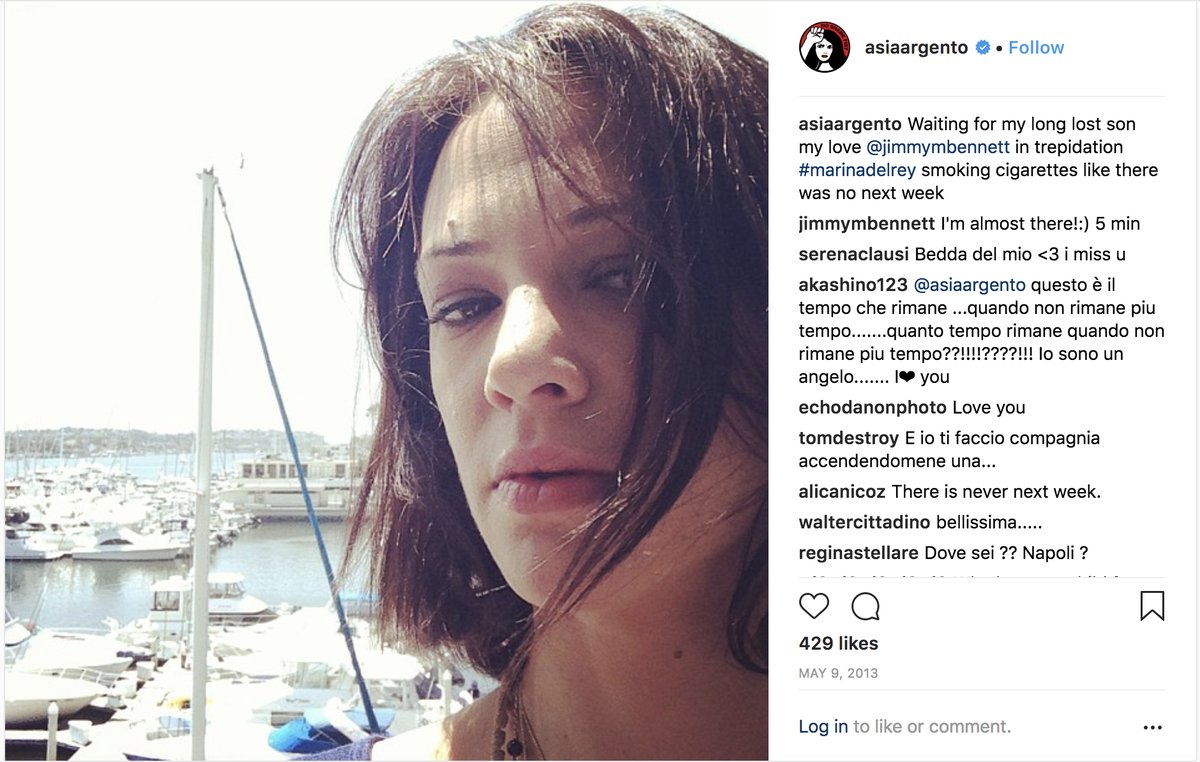 "Waiting for my long lost son my love @jimmymbennett in trepidation #marinadelrey smoking cigarettes like there was no next week."
See, Jimmy played Asia's son in the film The Heart Is Deceitful Above All Things and they referred to each other as mother and son. That's your creepy. A 20 year age gap and sleeping with teenagers is nothing Leonardo DiCaprio hasn't done every weekend. There's just something about having sex with someone you refer to as your son that skeeves me out.
Also, she gave him alcohol, which is not really a good look when you're trying to seduce someone who isn't old enough to drink. It basically makes Argento look like a little bit Bill Cosby, a little bit Kevin Spacey.
What's important to remember is that this doesn't mean it was okay for Harvey Weinstein to (allegedly) rape Argento, or that it didn't happen. It does make her a less effective spokesperson for the "using your power in Hollywood to take advantage of people sexually is bad" message, though it doesn't make that message less important. It just kind of makes her a hypocrite.