For all you haters who didn't like when Amy Schumer wore her hospital underwear and bra out on a walk with her new baby, she's got something else for you.
Recently, the comedian shared this Instagram photo that gave the Internet some serious pursed lips.
Schumer captioned it:
5 weeks. Hospital underwear for life!
Those look like booty shorts. Everyone wears them. Well, not to some people, who came with some serious disapproval.
One asked her to "put some decent clothes on and grow up." Yet another said, "I'm sorry but I think your taking this whole 'natural' thing to an extreme… brush your hair and put some decent clothing on.. child birth is a great thing but you don't have to let yourself go in return."
Of course, Schumer needs attention, but that's also who she is.
Schumer came back at the trolls and haters.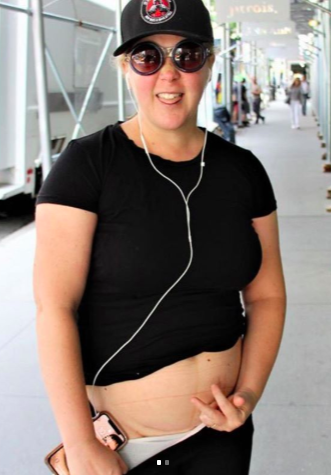 She showed off her c-section scar which is a pretty good response. Especially to those people who think she's being too natural. This time, she basically said sorry, not sorry.
I'm really sorry if I offended anyone with my hospital underwear. Except I'm just kidding.#csection #balmain
No word yet if she ripped off that response from someone else.