Anne Heche nearly lost her life in a fiery car crash after driving into two buildings, setting one on fire. It's a crazy story and the videos and photos are wild.
Heche, 53, was seen on a residence's Ring video speeding down the street in her blue Mini Cooper in the Mar Vista neighborhood in Los Angeles.
According to TMZ, she crashed into an apartment building. When residents came outside to help, she reversed out, sped away, then crashed into a home. This set both the home and her car on fire.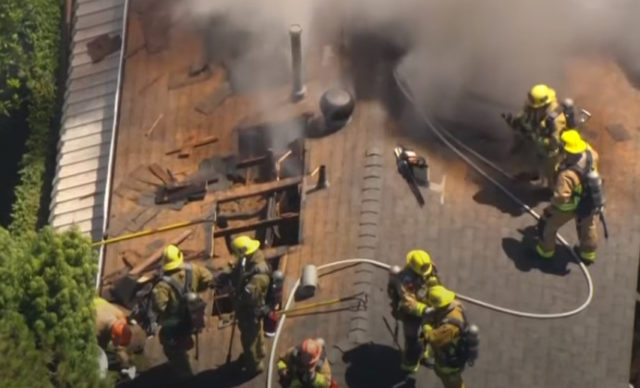 Heche's car was totaled and looks like a burned out shell.
KTLA 5 reports Heche sped down the street going at least 60 miles per hour, per witnesses, then flew through a stop sign. Her car then jumped a curb, flew through the residence's bushes and crashed into the home, setting it on fire. That is a movie scene right there.
Look at how narrow the street is where Heche allegedly was driving 60 mph. Someone has a death wish.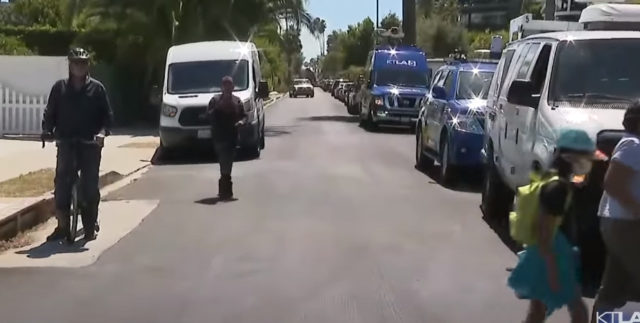 Firefighters were forced to take her out on a stretcher. In overhead photos, you can see her burned back. Look closely. Either her entire back is burned or she's wearing a tank top. She's lucky to be alive and lucky no one else was hurt.
TMZ doesn't come out directly and say, but they insinuate Heche's crash is possibly alcohol-related.
Look closely at the photo of Anne inside the car …there's a bottle with a red cap in the cupholder next to the gearshift, and it looks like a bottle of alcohol.
Heche has stayed somewhat active in the business. She had a recurring role as Corrine Cuthbert in All Rise, a show about Los Angeles' courthouses.
Which is super ironic because she's gonna spend a lot of time there now. Also county jail soon. The optimistic side of Heche can say this is research for her next role.