I don't know whether laugh or cry at this story. With so many people struggling to find housing in prominent areas like Silicon Valley, it's insane to read about two cats who have their own apartment.
Yes, that's right. These two cats (named Tina and Louise) live by themselves in their own $1500 studio in Silicon Valley. The story is that the cats' owner, Victoria Amith, is currently attending Azusa Pacific University and living in the dorms where she is not allowed to keep her cats. Obviously, most college students would simply leave their pets with their parents. But unfortunately, Tina and Louise were having some issues with their living arrangements. They had been living with Victoria Amith's father but started having some disagreements with their new roommates who arrived in the form of a couple of dogs belonging to the fianceé of Amith's father.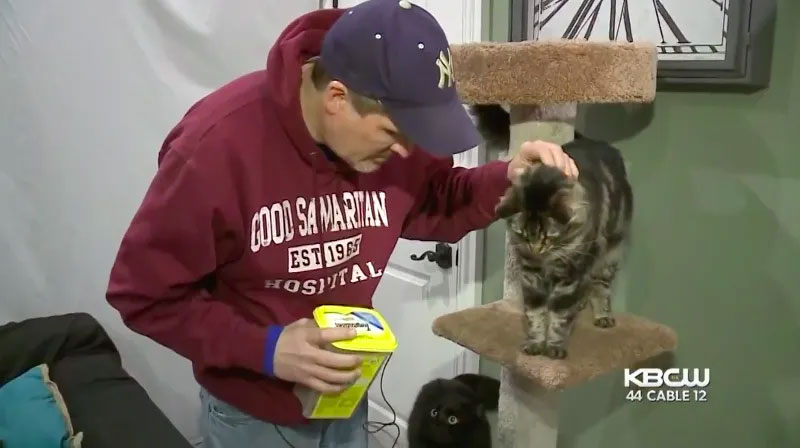 The only apparent solution was to get Tina and Louise their own place. Luckily, Amith's father has a friend named David Callisch who owns a building in Silicon Valley and agreed to let the cats live there in exchange for rent. This is what Callisch had to say about the situation.
"It's quirky isn't it? I never planned for this to happen. People love their pets, they're part of their family, so I wanted to help out my buddy."
Wow, David Callisch must be a pretty good friend to let his buddy rent an entire studio for his daughter's cats. Also, Callisch is the one who goes in to check on the cats and feed them every day. Yeah, I don't care how close a friend he might be, Amith's father has got to be paying a hefty bribe in addition to the rent. A mere $1500 to rent that entire studio isn't enough to cover additional personal care to the tenants who live there.
So, Tina and Louise will be residing in luxury at their studio apartment until their human mommy can claim them once she gets an off-campus apartment.
I really want to begrudge these two cats for taking up much-needed housing in that area. There are humans who are suffering from a housing crunch, so it's pretty insufferable to hear that two cats are hogging the decent living spaces. But I realize that it's really not their fault, I just begrudge the system and lifestyle that allows two pets their own studio with on-site personal care. And you can't really be too mad at these kitties. They're too goddamn fluffy.
Christ, but these kitties are too fucking adorable for words.