Twenty-four hours ago I had never heard of the Fyre Festival. At this very moment, I have never cared about anything more.
The Fyre Festival was originally promoted as a luxury getaway to a private island on a private plane. Tickets cost around $12,000, which honestly seemed cheap given all that was promised.
Here's a look at the musical lineup:
And here's a poster that fulfills all your hopes and dreams:
Ja Rule was the celebrity face of Fyre Festival. His Twitter feed is filled with tweets promoting the event. Other celebrities like Kendall Jenner got in the action as well. She's since deleted the tweets and started hiding her face. And just about every Instagram model did some type of the promotion for the event.
All of the warning signs were there. Anything that seems too good to be true typically is. Ja Rule hasn't had a successful venture in over 20 years. If you aren't willing to buy a Ja Rule CD in 2017, why would you give him $12,000? Unless she's holding a Pepsi, Kendall Jenner probably shouldn't be trusted. And Instagram models are the fakest celebrities alive.
But this didn't stop people from shelling out the money.
It was finally time to get FYRE'D UP this weekend. With all of the tireless work and promotion by Ja Rule and celebrity involvement, what could go wrong?
Well…..
Ok, but you're still at a beach. So it can't be all bad, right?
Alright, maybe it is pretty bad.
But at least Blink-182 and other major recording artists will be there.
HOW WILL MIGOS BE IN TWO PLACES AT ONCE?
But look where you'll be staying:
Wait, what's this?
Uh. Food. THERE MUST BE GOOD FOOD!
So, did anything go right?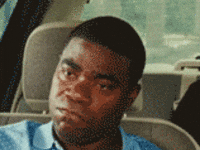 Of course, the misery of people who paid $12,000 because Ja Rule asked them to is the fortune of everyone else.
I've spent at least five hours today reading stories and jokes about Fyre Festival. I have never been more entertained in my life. If you have an entire day to kill, just read articles and social media posts about this event. I promise it's worth your time. Just look at some of the stuff you can get lost in on Reddit:
On site at Fyre Festival. Things have gone a bit awry.

Luckily, a leader has emerged. A guy named Ralph journeyed out into the waters and found a conch. We are currently all together, trying to figure out what to do. We have established that only the person with the Conch can speak. The Conch will be protected by Ralph and his hefty boy Piggy, and the conch will be blown (it produces a loud, low tone) for future meetings.

Please let the world know. It is imperative that we remain civilized. There are already talks of a "beast" hidden in the jungle.

If anyone has seen Piggy, please make sure he is safe.
we ran out of chex, already militias have formed and claimed the south side of the island and began ritualistically sacrificing people to desensitize us to the massacre

I participated in it to save my own life, they were watching me and I ended up having to eat the stomach and lungs of a human being.

don't send help, god has forsaken us
The twitter feed of William Finley is filled with gems.
Maybe people should have been a little more suspicious when the people who put this event together couldn't even spell fire correctly?